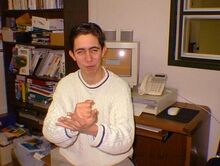 Scott Soroko
was a collaborator with
Troy Scott
on some of
Reldni
's audio productions.
Scott wrote and performed several songs with Troy, most notably on the releases Year of The Alfano and D.A.W.G.; the former features "Traitor Beach", which was the first song Troy and Scott wrote together, while the latter contains the hit "The Ballad Of Scott Soroko".
Troy called Scott "Web Boy", a nickname that appeared in "The Ballad Of Scott Soroko" (on Scott's license plate), in the caption of a photo of Scott on Reldni's website (facsimile to the right), as well as as the secret cheat code "WEBBOYBOY" in Vinnie's Tomb Chapter Two.
Later life
Edit
Scott worked for 15 years for the Halton Roman Catholic School Board. After Scott's work with Reldni, he dedicated himself to promoting pool and billiards, and he was a constant contributor to the sport as a player and organizer ever since his Assumption High School days. Living up to Troy's nickname for him, "Web Boy", Scott ran the web site shooterville.com, which was a regular stop for many players and fans hoping to find the latest news from the sport both from Canada and beyond.
Death and legacy
Edit
Scott Soroko passed away on August 14, 2009 at the age of 36[1][2], while in the care of a Toronto hospital. He died of from a congenital heart condition that doctors predicted would probably claim his life before he reached 20. He was awaiting a liver and heart transplant.
His funeral was attended by some 500 friends he had made through his passion for pool and billiards.[3] The Junior Association of Canada for Cue Sports was formed in September of 2009 in memory of Scott Soroko, and the Scott Soroko Memorial 9-ball Tournament took place on December 5th and 6th of 2009.[4]
References
Edit
Community content is available under
CC-BY-SA
unless otherwise noted.